We want to work in collaboration with you – we appreciate you are experts in your field and our readers want to hear from you. You probably are already producing excellent educational material so let us help you share it with our audience to get you a better ROI.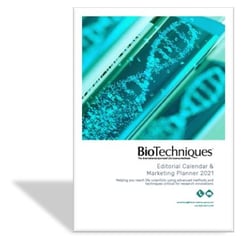 If, however, your scientists and experts are short on time and you need help producing content then trust in our editorial excellence to generate content that we know our audience will love, and consequently get you an excellent marketing outcome.
Every year, we produce a media kit to keep you informed on the abundance of advertising opportunities BioTechniques has to offer and what return you can expect for your investment. Request your media pack now to find out which options are right for your business.

---
Complete the form below to receive the full media kit or contact our Business Development Director Sarah Mayes, directly on: +44 (0) 7456 810 407 if you would like access to a simplified version that includes examples, deadlines and estimated results.